Our Story
Our Story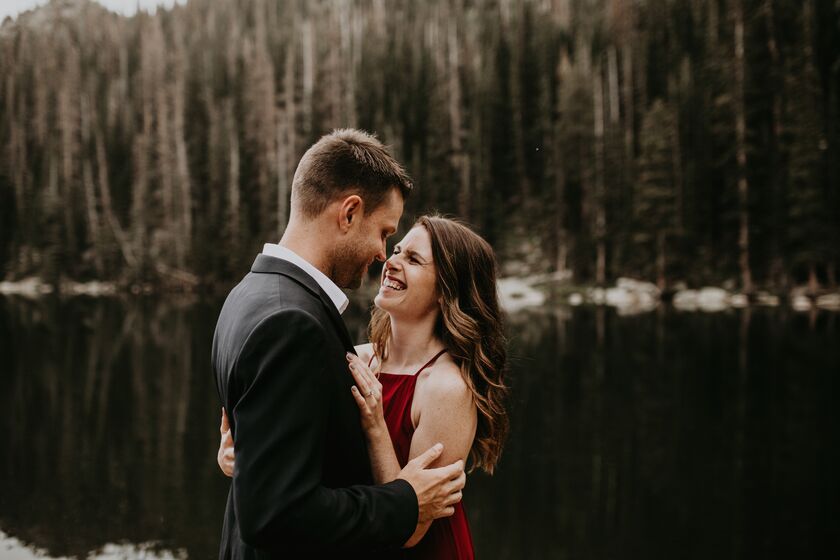 After both swiping right on Tinder we met that night, February 27th 2015, at the Front Porch bar in downtown Denver. After a few dates, Katie decided to make things official at the St. Patrick's Day Parade on March 14th, luckily Jim agreed.
The proposal: The first gift Jim gave Katie was a stuffed animal Paddington Bear. They had seen the Paddington movie together and Katie fell in love with the little British bear. When Jim decided to propose, he wanted to involve the bear somehow. After a nice dinner, they went back home and Jim had placed Paddington on the couch. Katie picked up the bear and found the ring in Paddington's jacket pocket and turned around to find Jim down on one knee. It was amazing to be able to celebrate with just the two of them...and Levi (the dog) in the comfort of their own home.
The Wedding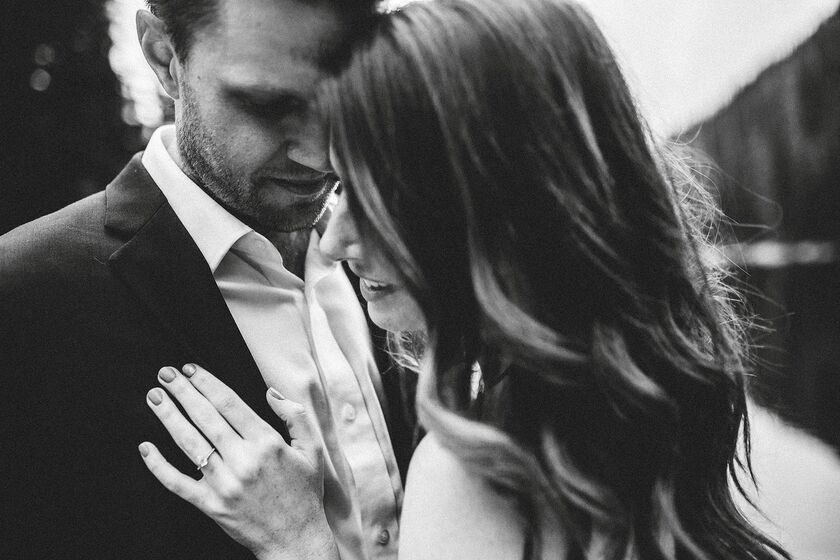 Saturday, September 8, 2018
5:30 PM
Attire: Semiformal
Ceremony and Reception
St Julien Hotel & Spa
900 Walnut St, Boulder, CO 80302, USA
"I love her, and that's the beginning and end of everything." - F. Scott Fitzgerald
Wedding Party
Carrie (Carebear) Metzger - Maid of Honor
Carrie and I met the first day of kindergarten. We bonded while sharing a carpet square and reading I Spy books. She has been with me through every life event - first day of school, first heartbreak, first detention, first hangover, finally getting my driver's license...then realizing no one should've ever given me a driver's license, first apartment in Denver, the harsh reality of the working world after college, falling in love, and now standing next to me as I marry the love of my life.
"If I murdered someone, she is the person I'd call to help me drag the corpse across the living room floor. She's my person."
Meghan Fehler - Matron of Honor
Meg and I met sometime in 9th grade, and although we didn't like each other at first, we quickly became friends while serving detention for throwing cannonballs at our history teacher. She has become the sister I never wanted and my other half I couldn't live without.
"I hope we're friends until we die. And then I hope we stay ghost friends and walk through walls and scare the shit out of people."
Katie (KD) Williams - Bridesmaid
KD and I met in high school, one of our first classes together was Health class and she would always just laugh at me as I tried to bribe our health teacher to give me a better grade by making him chocolate chip cookies...it worked. Since then, KD has been my rock and support. She will drop everything to help a friend in need or just come over to paint by numbers.
"Best friends are people who make your problems their problems, just so you don't have to go through them alone."
Rachael Messaros - Bridesmaid
Rach and I met in 5th grade at a volleyball camp, I literally do not remember this but have been told multiple times that it is true. We became best friends on our deathbed in Peru when she had mono and I drank Peru tab water. Throwing up together really seals a friendship. Rach is the most genuine and honest person. She understands my crazy and embraces it.
"I don't know what's tighter, our jeans or our friendship."
Casey Acker - Bridesmaid
Casey and I only met when Jim and I started dating...mainly because she is his sister, but I felt like we have been friends forever. From the beginning there has been no filter between us and there have been days I like her more than Jim (just kidding). She can make me laugh until I can't breath and has made me feel like a part of the family.
"...and I feel like I can communicate with you with simply a look."
Tatum Ritchie - Bridesmaid
Tatum and I met when Jim and I started dating, because she is married to Jim's brother. From the moment we met, we just clicked. She is my therapist I can drink with and the voice of reason when my ideas are questionable. I can't wait to call her my sister.
"One of the most beautiful qualities of true friendship is to understand and be understood."
Jonathon Ritchie - Best Man
Jonathon is my brother, best man, and best friend. He's been there for me my entire life and I couldn't imagine this day without him by my side.
Kevin Stark - Groomsman
Kevin is my cousin and like another brother. Throughout my life he has been a positive influence (most of the time) and helped guide me both personally and professionally.
Justin Hazelwood - Groomsman
Justin is Katie's brother and I met him when Katie and I started dating. We became friends right away because of our similar personalities and a similar sense of humor. He makes family vacations, holidays, and any type of celebration a little more fun. I'm excited to call him a brother!
Luke Brogoitti - Groomsman
I met Luke when we were 5 years old. He lived in my neighborhood and we immediately became best friends, and have been ever since. We've gone to school together our entire lives (in college that may not have been the best decision…) and have been there for each other through everything life has thrown at us.
Dave Beasley - Groomsman
Dave and I also met when we were 5 years old. He lived across the street from me and (along with Luke) we became best friends, and have been ever since. Even though he was shy and ran away from me the day we met, I persisted and we've had an unbreakable friendship for the past 28 years.
Jamal Arif - Groomsman
Jamal and I met 13 years ago when I was about 20, and we spent almost every minute of our early 20's together. He became like a brother to me and we ended up living together for 3 years in Los Angeles. To have such a loyal and authentic friendship during that time of my life was very important and I cherish it to this day.